Minister President Armin Laschet Shows Support for a New Constructive Bonn Institute
At the Global Media Forum Minister President Armin Laschet announced that NRW plans to support a Constructive Institute in Bonn.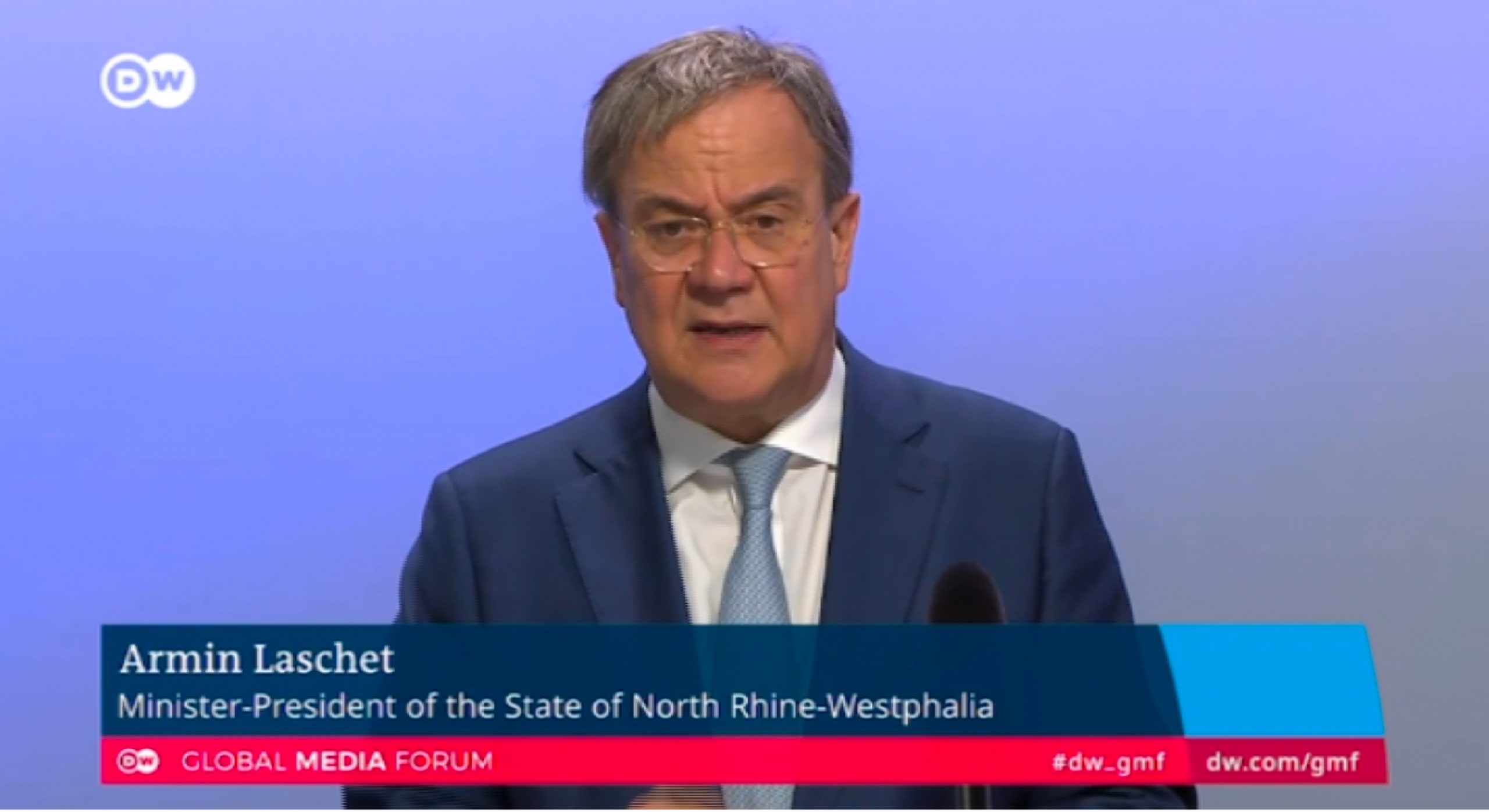 "The government of North Rhine-Westphalia will support this project to the best of its ability. Deutsche Welle, RTL in Cologne and the research network CORRECTIV, among others, are very interested in the project. In addition, the media-digital state of NRW also offers the best possible framework conditions for such an institute with numerous newspaper publishers, local radio stations and, last but not least, Westdeutscher Rundfunk," the CDU-chairman Armin Laschet said today opening the Global Media Forum 2021 in Bonn.
Centralising Constructive Journalism Activities
According to Laschet there are already many promising approaches in Germany, but they lack coordination:
"Many well-known media markets are already involved here – newspapers, TV stations, radio stations, online offerings. What is missing is an actor who networks these activities, who brings journalists together in a targeted way and offers opportunities for exchange and training, who creatively accompanies innovation processes in media companies and initiates journalism research. Research not just for the ivory tower of academia, and this is particularly important, but with very practical benefits for the editorial offices," Laschet said while encouraging the industry to look towards their content rather than focus solely on platform development and delivery:
"For their own sake, media makers should not only be concerned with technological innovations and monetisation strategies, but also with what they can change about their product in order to win back people. Many newsrooms around the world have long recognised this. In many places, for example, people are experimenting with how to make their own product range more attractive with ideas of constructive or solution-oriented journalism, how to report just as critically and seriously on positive developments and solutions as on problems," Laschet said.
Government Support not Ownership
Laschet also made it clear that a journalism institute must be independent from government influence.
"Journalism must operate remotely from the state. Such an institute will only "fly" if it is supported by the media industry itself, because it strengthens and accelerates the innovation processes in the companies. We as the state government want to create good conditions for this," Laschet said.
Honoring his Promises
Back in December at the Global Constructive Journalism Conference Laschet presented his commitment to an institute and explained why there was a need for constructive journalism in the country.
"An exciting debate is underway over whether journalism could be "more constructive"," Armin Laschet stated:
"This is not about journalism becoming less critical or being friendlier to the powerful or only reporting on positive subjects. It's about asking whether journalism could be more nuanced or approach subjects from a different perspective. Whether it could provide more context or shed more light on developments that inspire courage."
Constructive Journalism can Pay Off for Germany
A new report outlines the potential for constructive journalism for public engagement and news media across Germany. It has been published in German and an English version of the report will follow soon.
Titled "Solutions, Perspectives, Dialogue – Why Constructive Journalism Pays Off for the Media and Society" it is authored by former constructive institute fellow Ellen Heinrichs. The report describes how constructive journalism approaches can counter the trend of news avoidance by adopting a less pronounced focus on negative news events and coming closer to people's subjective sense of relevance.
Take-aways from the Report
Audiences consume constructive content comparatively longer and comment less hatefully on social media.
There is also growing evidence that constructive journalism has a positive effect on the monetisation of journalistic content. Examples show that this effect can be achieved in both national and regional media
Particularly in the current pandemic, people are especially likely to resort to constructive information offers. This could offer insights for future coverage of the looming climate crisis.
Constructive Institute News
Here we collect our latest news in order for you to stay updated on everything constructive institute, constructive journalism and constructive fellowships.
all news articles