Freedom of Expression Conference 2022
On September 2nd, 2022, CEO and Founder of Constructive Institute, Ulrik Haagerup, took part in the Nobel Peace Centre's Freedom of Expression Conference alongside prominent people like Dimitrij Muratov, Maria Ressa and Juan Manuel Santos.
Below you can read what Ulrik learned during the conference.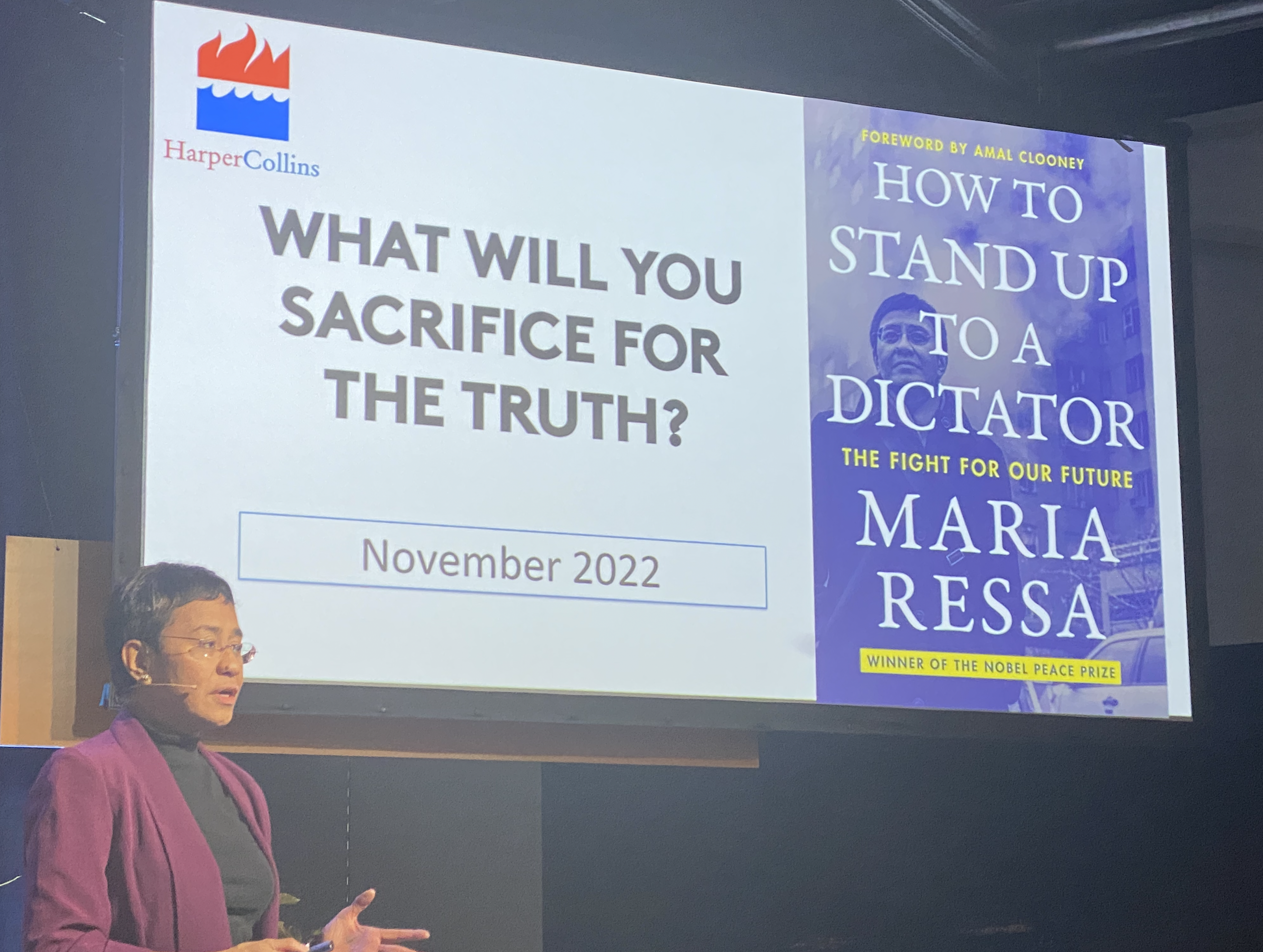 The time is no longer for us to just say that someone has to do something somewhere sometime.
WE have to be the change, we are waiting for.
By Ulrik Haagerup
"So, what will you do for truth?", Nobel Peace Prize winner Maria Ressa asked from stage at the Freedom of Expression Conference at the Nobel Peace Center yesterday.
Listning to her and the other Nobel Prizes laureates made me understand that true change in this world comes from people not only with good hearts and a sharp mind, but from induviduals with hope for success is stronger than their fear of failure. People who are crazy enough to think they can change the world are the ones who do. They – the Muratovs, the Ressas and the Santos of this world – know, that if you do what you always have done, you most likely will end up with the results you have always gotten. And we do not like the results. We cannot take democracy for granted. Polarization is the next pandemic. Because the virus of division spreads like a virus.Not only through algyrithms in Social Media, But also in the toxic conflict culture in politics, the cynical tone in the public debate and news media trying to get attention, clicks and ratings from giving the microphone to the most loud, the most rude and the ones with most likes. "The world needs a Noah's Ark for media,"
Nobel Peace Prize winner, Russian editor Dimitrij Muratov suggests. His paper has been shut down by Putin, but curagesly he spoke digitally from Moscow.
Today he will bury his old friend Gorbatjov "who gave the world 30 years of peace and a break from the fear of nuclear Hell. That and my friend is gone."
Muratov visited the dying Gorbatjov, who with strong hints to the invasion of Ukraine to get it "back to Russia" adressed the critisism that he "gave away" also Polen, DRR and Czechoslovakia:
"I gave it to the Polish people, the Germans and the czeck people. Who else should I have given it to?"
The conference in Oslo underlined the need for trusted information as a new human right. And the importance of critical, constructive and independent journalism to inform, inspire, control and facilitate the public conversation on important challenges in society.
As I said in my talk: "Who else should do it?"
And I reminded that yet another curagous Nobel Peace Prize winner, Martin Luther King, did not motivate by saying "I have a nightmare.."
Change is possible.