Blog: At styrke demokratiet – Propublica
Offentlig kommunikation bør understøtte folkestyret
Hvordan kan kommunikationsfolk være med til at styrke demokratiet? Det arbejder Thomas Dybro Lundorf med i non-profit-organisationen Propublica.
Af Lene Rimestad, journalist og ph.d. 
"Jeg er demokratisk fundamentalist,"
siger Thomas Dybro Lundorf. 
"Det er en ære at arbejde i et folkestyre, ikke en sur pligt," siger han med henvisning til Kodeks VII – de syv centrale pligter for embedsmænd i centraladministrationen. 
"Kodeks VII har samme motiverende effekt som den spanske inkvisition," siger han med et skævt smil. 
Thomas Dybro Lundorf har været kommunikationschef i statslige styrelser siden 2007 og har arbejdet med offentlig kommunikation siden 2005. Sammen med to andre har han startet Propublica, en nonprofitorganisation, der skal arbejde for at udvikle offentlig kommunikation i Danmark og Europa, der er "relevant, retvisende og for alle – til gavn for demokratiet.
Thomas Dybro Lundorf vil gerne opnå, at det det abstrakte og teoretiske Kodeks VII gøres mere konkret. Kommunikationsfolk skal aktivt arbejde for, at offentlige myndigheders kommunikationsstrategier er forankret i folkestyrets grundlag og ikke udvikler sig til mere corporate branding-strategi end i dag.
Lande som Norge, Holland og Storbritannien har kommunikationspolitikker (https://www.regjeringen.no/no/dokumenter/statens-kommunikasjonspolitikk/id582088/) og uddannelser for offentlig kommunikation. Storbritannien nedsatte en kommission, der undersøgte offentlig kommunikation efter Irak-krigen, og en kommission, der undersøgte pressen efter telefonhacker-skandalen. De to undersøgelser ledte til standarder for offentlig kommunikation og for medier.
"Det offentlige er ikke en koncern. Det er en del af et folkestyre, og et folkestyre skal ikke kommunikere som en koncern."
Han oplever, at demokratiet, forstået som et reelt demokrati, hvor alle rent faktisk er med til at bestemme, er i en krise, og hvor de små beslutninger tages i fællesskab, men de store beslutninger tages af få. Forældrene i 1. klasse må for eksempel gerne bestemme, om fødselsdage skal fejres med eller uden sukker, mens borgerne ikke inddrages i, om PFAS eller andre skadelige stoffer skal forbydes.
Ministre og myndigheder skal understøtte en oplyst debat. Og det indebærer for dem og for de offentligt ansatte kommunikationsfolk, at politikerne og myndighederne helt ærligt fremlægger fordele og ulemper ved en beslutning, og helt åbent viser de fakta, som ligger til grund for beslutningen.
"Det skal være ærligt og konsekvent – uden at skrue på nogle af tallene," siger han. "Hvis folkestyret skal fungere, så skal politikerne kunne stå inde for de politiske initiativer uden at dække noget til."
Kommunikationsfolkene får en særlig rolle. For de skal lære om offentlig kommunikation som en disciplin, der adskiller sig fra corporate communication. Der er andre spilleregler og en anden etik for den offentligt ansatte kommunikationsmedarbejder. Målet er at kommunikere med borgerne, så de forstår, hvad der foregår og kan deltage. Ikke at pakke noget ind på en særlig spiselig måde eller frame et budskab ud fra et ønske om mindst mulig ballade.
Propublica har tre forskellige søjler, som organisationen satser på: uddannelse, netværk og en tænketank. Organisationen udbyder kurser og kompetenceudvikling i "demokratisk kommunikation". Det handler om at " udvikle koncepter og metoder til at fremme en oplyst debat og borgerinvolvering i de væsentligste samfundsdebatter og til at understøtte demokratiet generelt". For det andet vil organisationen skabe netværk for offentlige kommunikatører i Danmark og udlandet. Thomas Dybro Lundorf er allerede engageret i flere forskellige netværk, der arbejder med offentlig kommunikation. For det tredje vil Propublica starte en tænketank, der skal samarbejde med forskningsinstitutioner, offentlige myndigheder og tech-virksomheder for at søge ny viden.
Han har selv oplevet en kultur og et mindset i offentlige myndigheder, der skaber mindre åbenhed og tendenser til at tilbageholde informationer.
"Man er bange for at blive taget med bukserne nede og i at begå fejl. Derfor bliver man defensiv, og det har store implikationer for organisationen, kulturen, procedurer og praksis – og i sidste ende folkestyret," siger han. 
"Hvis vi vil have et reelt demokrati, også for de kommende generationer, så er der brug for nye standarder, for åbenhed og transparens. De strategiske mål for den offentlige kommunikation skal være at understøtte en oplyst debat, hvor de politiske forslag og initiativer bliver lagt ærligt frem for alle," siger Thomas Dybro Lundorf.
Forskelle på kommunikationen
Hvordan kan man – lidt karikeret – beskrive forskellen på offentlig strategisk og corporate kommunikation/tænkning?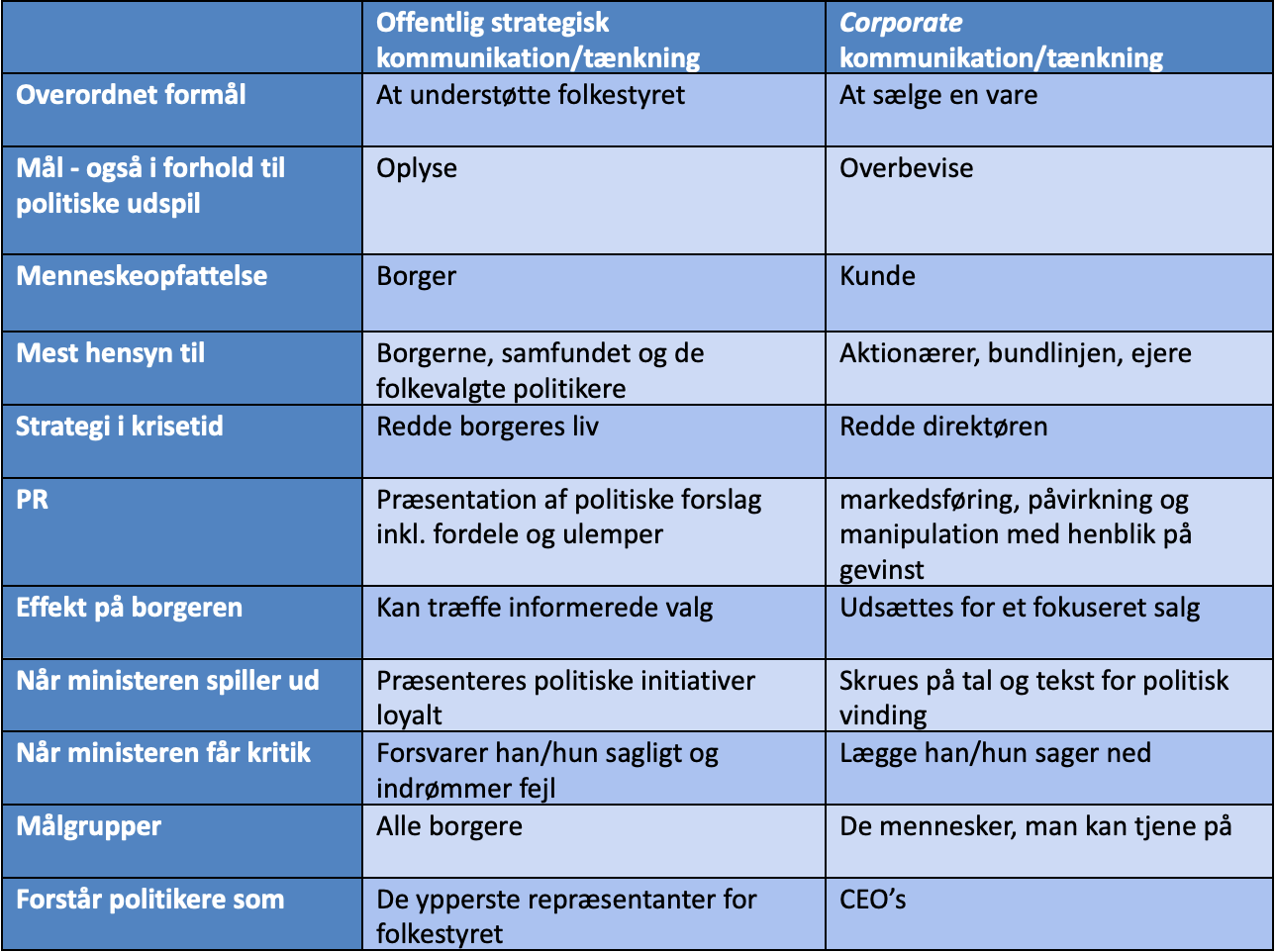 I offentlighedens tjeneste
Constructive Institute har undersøgt forholdet mellem offentligt ansatte kommunikationsfolk, embedsfolk og journalister. Hvordan ser de tre grupper på hinanden?
Hvis du har input til undersøgelsen, kontakt venligst Lene Rimestad: lene@rimestad.dk eller 53131243.
Tilbage til forsiden