Lesson Learned from Nobel-prize Winner: Peace is a Good Story
Lesson Learned from Nobel-prize Winner:
Peace is a Good Story
Ethiopian prime minister Abiy Ahmed, this years' Nobel peace prize winner, teaches us that ministries of peace operate surprisingly well.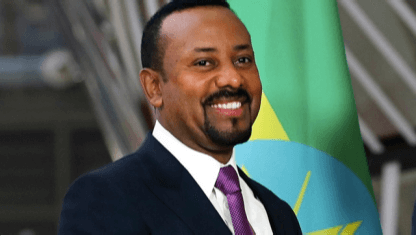 This years' Nobel peace prize winner, Ethiopian prime minister Abiy Ahmed, teaches us that ministries of peace operate surprisingly well in war-torn countries around the globe – and that maybe we should build some more.
The lists of things he did right is long, especially when you consider his short time in office. Elected in April 2018, already the early months of 43-year-old Abiy Ahmeds rule were filled with decisions that resonated loudly in the rest of the world: He released the country's political prisoners, freed jailed journalists and summoned the political opposition and civil society to work on new ambitious reforms, eventually making sure that he could do what no one was able to before him – ending the long war with neighboring country Eritrea.
"In Ethiopia, even if much work remains, Abiy Ahmed has initiated important reforms that give many citizens hope for a better life and a brighter future," said Berit Reiss-Andersen, the chair of the Swedish Nobel Committee on Friday.
Build a ministry of peace
But one reform in particular stands out if we look at what other countries plagued by war can learn from the Ethiopian success story.
"He built a ministry of peace that has worked remarkably well," says peace researcher at The Institute of Political Science at University of Copenhagen, Isabel Bramsen.
Drawing on experience from similar ministries in Nepal and Costa Rica, Ethiopia's ministry of peace was especially occupied with negotiating between the country's many different ethnic groups and to act as a visible ambassador for peace, explains Isabel Bramsen.
"I call it an infra structure for peace, much like you have an infra structure for a fire department that ensures that everyone knows what to do in case of a fire. Here everyone knows what to do to work for a lasting peace," she says.
Long lists of tasks for peace ministries
According to Australian NGO Ministries for Peace that works for more ministries of peace around the world, there's a long list of important tasks that you could delegate to such a ministry, including disarmament, conversion of military facilities to peaceful purposes, redefining the notion of national security and even celebrating peace:
"Peace, too, has its heroes. The Ministry would have to find ways of celebrating peace. In most countries there are more monuments to military leaders than to any other form of human endeavor. The Ministry would need to find ways of honoring the country's peace heroes. They do exist. The search alone would stimulate increased interest in the culture of peace paradigm," suggests Keith Suther from the NGO.
Time will tell if the people of Ethiopia will honor Abiy Ahmed with a monument or they find other ways of expressing what they feel. For now, the prime minister himself remains relatively silent and humble. According to news agency AFP he states that "Ethiopia is proud as a nation" from winning the prize.
With the NGO International Media Support Constructive Institute has developed, what we call "Post Conflict Journalism Training" and have implemented a pilot in the Colombia media landscape. The idea being that journalist and news organizations know very well how to cover the war, the blood, the fear and the demonization of the other part. But what is the role of journalism, when they have signed the peace treaty? How can news media play a role in building up democracies again? Build bridges between former enemies? Inspire to better schools, hospitals and better roads? How can media facilitate public debates on potential solutions to the problems facing all of us?
At Constructive Institute we salute the new winner of the Peace Prize as a living proof, that a good journalistic story no longer is just a bad story.